My book Locating Australian Literary Memory looks at places and sites associated with eleven Australian writers (including Lawson) but while writing, I wasn't able to dedicate much time/space to objects. Many of the artefacts connected with authors tend to be displayed in literary houses. Due to his lifelong poverty, Lawson doesn't have a house – except for the Lawson centre in Gulgong, lcoated in an old Salvation Army Hall. This means that it takes extra effort to locate his many remaining 'relics', if you have a will to do so.
Lawson was on a downward trajectory in the later part of his life, due to his chronic alcoholism – he lived largely on handouts from friends and benefitted from the charity of Isabel Byers who fed and sheltered him. Given his constant need for alcohol, he would often give away items like walking sticks, and even boots in return for beer money. These objects may have been used up and thrown away had they not been connected with him – in themselves they were nothing special, cheap and shabby even, but his ownership bestowed an 'aura' which might only have come into force posthumously.
As the framework of value changes, objects are viewed differently. Lawson's tobacco packet is a case in point – when did it cross over from being junk to relic? Who thought to keep such an item? The decision to keep items which might seem like rubbish to others, shows that there are emotional connections at play in this kind of decision-making.
The Wills Vice-Regal tobacco in its blue packet is very distinctive – as you can see, it has been scrunched up (perhaps in a jacket pocket?) and the tobacco has spilled out. The silver lining from the inside of the packet is visible on the outside.
It was given to Roderic Quinn, another impoverished poet, who obviously resisted the urge to smoke it all! I am impressed by the way that this has seemingly been left 'as is' – not neatened up too much. It's also a transient commodity which has been 'unnaturally' frozen in one stage of its existence rather than being consumed and thrown away.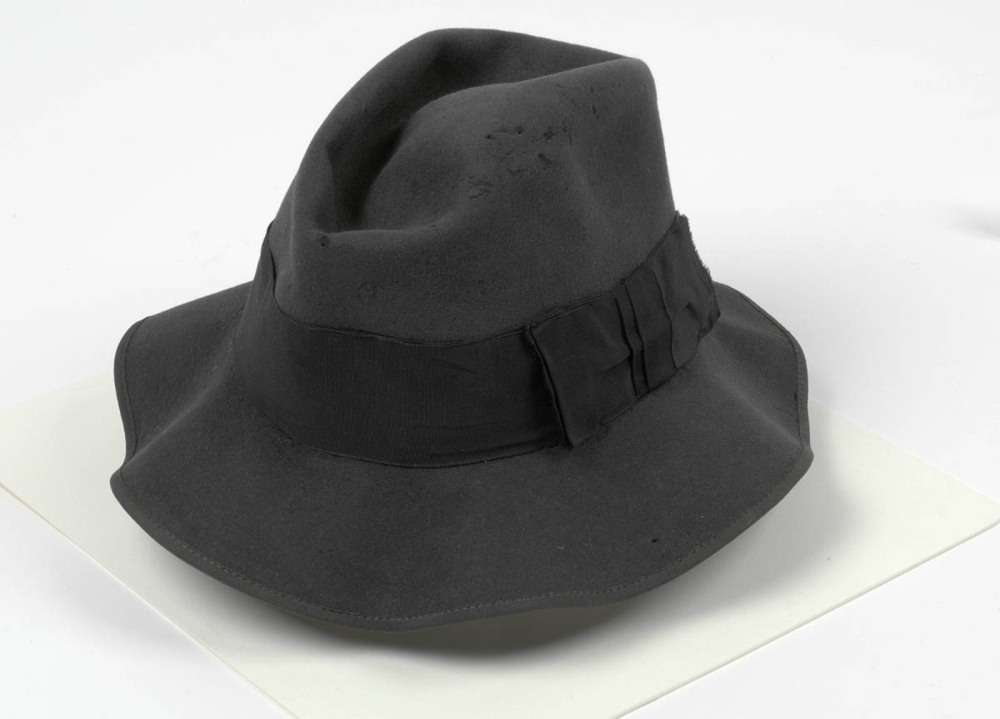 One of Lawson's most characteristic personal effects is his hat. An article in the Sun from February 1951, notes 'Yesterday, Dame Mary Gilmore gave the hat to the Australian Journalists' Association which will keep it as a relic of Australian literary history.
When Lawson died, Mrs Byers sent the hat to Gilmore, who gave it to Jim Grahame, Lawson's close friend and biographer. When Grahame died, his widow asked Gilmore to give it to someone who would 'take care of it'.
When Gilmore first saw the hat, 'the band was stuffed with foolscap pages of Lawson's writing to make it smaller' These pages have now disappeared.
This detail indicates that the hat wasn't quite the right size for Lawson's fine head which was carefully studied by the artists Lambert and Illingworth (and others). It makes you wonder whether he actually walked around with pages of writing stuffed into this ill-fitting hat.
---
The sample of Lawson's hair kept in State library of NSW is arguably less romantic than the bronzed mould of his hand made by the sculptor Nelson Illingworth. Mary Gilmore's note on the envelope with the hair says that it was cut off in prison when he didn't have grey hair (this came later) As you may know he was imprisoned in Darlinghurst jail due to his failure to pay child support He spent several short stints in jail, including one of over 120 days, between 1905-1910 – and was admitted to rehabilitation sanatoriums at various times.
The photo shows a fuzzy clump which hasn't been styled or aestheticised like many of the literary relics that are kept in glass cabinets in Europe (gold brooches, glass topped boxes, mourning jewels)
While looking at all of these items recently (online) it occurred to me that the nature of Lawson's life – his disability, impoverishment, addiction – affects the way in which his relics are displayed. Most of the relics are related to his body – and his person generally, extending out to his pens and pencils (the tools of his trade). He was not a man who amassed wealth or real estate – for this reason there's something basic or unadorned about the way that the items connected with him have been handled and displayed. This is not to say that there hasn't been a great deal of care and stewardship involved with the preservation of these items – these have been the result of social, rather than institutional efforts at least while his friends and followers were still alive – beyond this, organisations took over. The fact that they are scattered without one repository means that they are not often seen together – as in author house museums – aside from the occasional exhibition.
Here's a link to a full lecture I recently gave on Lawson's material legacies at the Eureka Centre, Ballarat, if you're interested to know more about a selection of his surviving artefacts.